Volunteers Needed Urgently for Mane Essentials Store.
We are in urgent need of volunteers for Mane Essentials, the PA run store at Crestwood.  Working at the store is easy and back-up will be available when needed.  Shifts are only  about 30 minutes long at the end of the school day.  Choose to help out once per week, or every 2 weeks or on an on-call basis.  It's a great way to interact with students when you may already be at the school for pick-up.
The Hallowe'en Bake Sale is coming!
Our first bake sale of the school year is coming on Wednesday, October 30.  Hallowe'en themed baked goods are needed.  Both store-bought and home-baked, nut-free treats are appreciated.  Please contact 
lisa.bloom@rogers.com
, if you are able to contribute.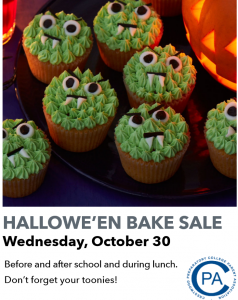 Pizza Lunch Starts October 18.
If you would like to register your son or daughter for Pizza Lunch, time is running out.  Please register online before October 15 at 
store.crestwood.on.ca
.  The total cost for all 7 lunches is $65.