Basketball
The Crestwood Junior Boys' Basketball team advanced to the CISAA championship game with a 75-67 semifinal win over a hot shooting Crescent team. The teams battled back and forth through the first half before Crestwood took a 35-31 lead into the break. The Lions pushed the lead to as much as 15 early in the 4th quarter before Crescent mounted a late comeback closing within 1 point with 3 minutes to play. The Lions would get a couple of key stops and were able to finish the game off from the free-throw line in the closing moments. Matthew Nelsons led the way with a season-high 42 points and several rim-rocking dunks, while K'Shawn Latty added 25 and a dunk of his own. The Junior Lions will take on St. Mike's at home this Saturday at 12:00 in rematch of last year's championship game. Please stop by and support if you have the chance!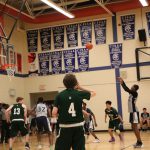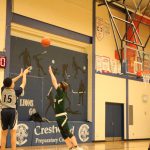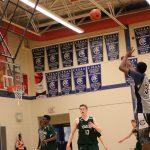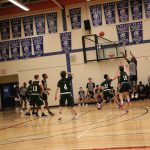 They have done it again!!!   Our Senior Boys played Villanova Wednesday in their semi-final game and what a showing it was. From the initial jump ball, our Lions took a commanding lead and never looked back as they beat Villanova 81 -56.
The Senior Boys Select team is playing in the National Preparatory Basketball Championships this weekend trying to win our first National title. They started off strong Thursday night winning their tournament opener against St. Laurent School by a score of 90-64. The team plays GTA prep tonight at 8:00pm. All games are streamed on YouTube – Northpole hoops, check out the action!
What a nail biter. Wednesday, our Senior Boys' DII team had the fight of their life against Bayview Glen but they come out victorious with a 56 to 53 win. This win was in large part due to the spectacular shooting of Dave McCall, the continuous hussle of Johan Eichler and the rebounding strength of Erik Usher, Kabier Izzeldin and Derek Boecker.  This Saturday our Senior Boys' DII team will be playing in the finals hosted at Crescent at 9 am. Wish them luck or come out and support them on Saturday.  A huge thank you goes out the following members of the Senior Boys' DII team as Wednesday was their last home game in the Lion's Den before they head off to University.  Dave McCall, Logan Lim, Derek Boecker, Erik Usher, Joe Eisentraut, Cole Morrison, Aren Karshafian and Kabier Izzeldin.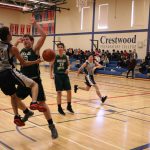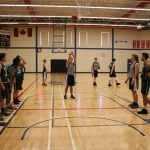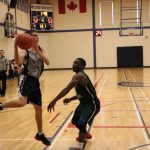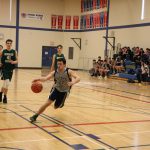 Volleyball
In the opening round of the playoffs, the Junior Girls' Volleyball team faced off against Albert College.  During the regular season, our girls lost both games that we played against them.  But this was now the playoffs and our ladies were determined not lose for a third time.  All matches were hard fought and extremely close with the scores being 25-23, 22-25, 25-23, and 25-23.  The key difference this time is that the score favoured our team and each team member played critical roles at different parts of the game to lead to our victory.
The Senior Girls' Volleyball team travelled to Rosseau Lake College Monday and left victorious in straight sets to end their regular season. It was a complete team effort highlighted by spectacular serves from Audrey Melkoumov and Laura Chu. Jahnai Brown and Rachel Pape provided stellar offense with overpowering spikes that were only possible by the accurate sets provided by Alex Sanders. The team played a great defensive game, anchored by the strong play of Sacha Snyder, Julia Lee, Sydney Major and Willa Easton. Great job ladies!
The Senior Girls' Volleyball team won their quarterfinals playoff game Tuesday at Trafalgar School in five tightly contested sets. They managed to pull out the victory with a 16-14 final score in their last set. The ladies look to continue their fantastic play this weekend in the semifinals at TMS. Let's wish them luck!