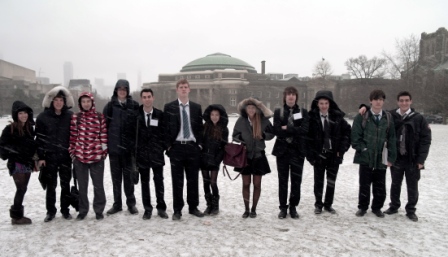 Crestwood was pleased to send a delegation of students to the University of Toronto Model United Nations Assembly (UTMUN) this year. UTMUN, which celebrated its 6th anniversary this year, is held each February on the campus of the University of Toronto. Crestwoodís delegates this year included Noah Levin, David Hagon, Sabrina Wasserman, Robert McKay, and Antony Cook, who represented Australia. Other delegates included Lisette Weinstein, Richard Laramie, Zach Brown, Ethan Alter, Cassie Wasserman, and Victor Minkov, who represented Somalia; and Michael Lawee, who took on the role of Jacques Necker in the French Revolutionary Crisis Committee.
Over the three day conference (actually two, thanks to the Blizzard of 2013), the students participated in the various committees of UTMUN, including the Security Council, the Arab League, SOCHUM and so on. On these committees, the students submitted and debated a number of resolutions, which were modeled on current international issues; as such, the students had to role play and had to be well-versed in the foreign policies of their respective countries, as well as the operations of the UN in general. Even with all this, they managed to have fun at the same time. All in all, it was a good experience, and Mr. Masters and Mr. Rachlis thank the delegates, especially the graduating 12s, for their many years of hard work and enthusiasm.
Check out all of the photos from the Model UN on Facebook!