Hockey
The Senior Boys' Hockey Team travelled to Greenwood College School on Wednesday to open the 2018-2019 season. In a game that was highly anticipated, both teams did not disappoint with their play. In a game that saw both teams have a number of scoring opportunities, Greenwood prevailed and was able to squeak out a 1-0 victory. The team played extremely well at both ends of the ice, especially Jayden Bennett, who played lights out and made over 25 saves in net, as well as Cole Eichler and Christina Campanelli who had every opportunity to score but just couldn't buy a goal. The team's next game is Wednesday, December 5 when they take on Royal St. George College School.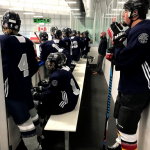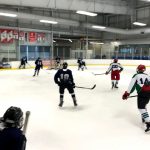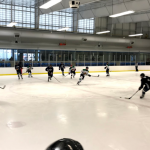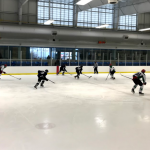 Swimming
The Varsity Swim Team had their first meet of the season Tuesday, and it was an absolute success! All athletes challenged themselves and swam multiple events, some that were very outside of their comfort zones. We came home with a total of twelve personal bests, and fourteen top-eight finishes.  Our siblings on the team deserve some special recognition. Sarah Douey swam two personal bests, winning a bronze in the 50 back, and Sam Douey raced three personal bests, finally breaking 30 seconds in the 50 free. Newcomers Jack and Will Magan, also posted some extremely fast times, dominating their 50 free and 100 IM events.  All swimmers should be very proud of their first meet of the season.
Basketball
The Crestwood Junior Prep Boys' Basketball team finished 4-0 over the weekend in the first ever National Junior Circuit session held at Thornlea Secondary School. The Lions faced off against some of the top teams in Canada, defeating D'Youville, Bill Crothers, Michael Power, and Canada Topflight Academy. Elijah Fisher received Game MVP honours against D'Youville and Canada Topflight, Mikkel Tyne received an MVP against Bill Crothers, and Kailon Nicholls got the MVP nod against Michael Power.  The team showed a lot of improvement over the weekend, and all players were vital to the 4-0 mark.
Monday our Lady Lions traveled to Brantford, Ontario to take on a very good TRC Academy.  After an excellent warm up the Lions wasted no time getting down to business.  By halftime, our Lions were up by more than 20 points.  The final score was 88-59.  The Lions were led by Aaliyah Edwards who exploded for 38 points.  This is the second game in a row one of our Lions has cracked the 30 point marker.  Previous was Latasha Lattimore who had 35 last week versus J. Addison College.  The Lady Lions are currently 6-0 in OSBA play!
The Crestwood Junior DI Boys' Basketball team defeated Trinity College School 72-21 in their first CISAA game of the season. The Juniors got off to a quick 24-2 lead after the first quarter and never looked back. All 12 players scored in the game with Hayden John and Jesse Codron leading the way with 10 points a piece. Elias Papaconstantinos scored 9, Christian Gheoculet had 8, and Caiden Oshinowo pitched in 7.  The defensive presence was fantastic all game, with Zack Graff leading the effort up top. The Lions held TCS to only 2 points in both the 1st and 3rd quarters. The Juniors will be back in action next Wednesday with a home match-up versus Appleby College. Tip-off is set for 4:30pm.