Basketball
The U14 Boys Basketball team played in a exciting game vs St. Michael's College. The boys came out with a bang, that was generated by great full court pressure that led to easy transition opportunities.  The St. Michael's Boys went on a mini run of their own but our boys were able to weather the storm and go on a 13-2 run in the second quarter, which sent them into halftime with a score of 39-26 for the Lions.  The boys continued to play great defence throughout the second half, which helped propel them to a 73-47 victory over St Michael's.  The Lions were led by Mikkel Tyne's 29 points and Marcus Green's 10 .  The Lions also had great contributions from Kyle Little, Jack Wu and Ted Grant who provided some scoring and stellar defence. The U14 Boys hold a 5-0 record and hope to continue their success throughout the remainder of the season.
The Crestwood Junior Boys D1 Basketball team picked up their 9th CISAA victory of the year with a 73-34 victory over Upper Canada College. The Lions came out roaring to an 11-0 lead and led 38 to 21 at the half. The 2nd half was even more impressive as the Lions out-scored UCC by a score of 35 to 13.  Caiden Oshinowo was hot from deep, hitting four 3-pointers on his way to a game-high 14 points. Kailon Nicholls added 12, while our trio of posts:  Hayden John, Chadwell Knight-Seucharan, and Liam MacInnis combined for 17 points. Elijah Fisher and Matai Baptiste each pitched in 8 points in limited minutes. The Crestwood Juniors have only two CISAA games remaining before playoffs, and they will take on UCC again in a road contest on Tuesday afternoon.
Thursday night the Junior Boys DII basketball team completed their season at home against Greenwood College.  Greenwood College started well and quickly built an imposing lead. However, Crestwood never gave up and battled back to within 8pts at half time, to trail 28-20.  In the second half, the ball just wouldn't go in for Crestwood and a few mistakes lead to Greenwood extending their advantage and eventually winning 63-38. Many of the team had their best game of the season, and showed that their hard work in practice is paying off. Rocky Wang continued his great season to lead all scorers with 19pts and managed to score in double digits every game this season. Rohin Juneja also had a strong game for the Lions scoring 7pts. Mr Manners is proud of the character, improvement, and togetherness you have all shown this year.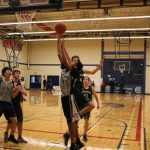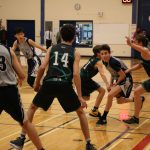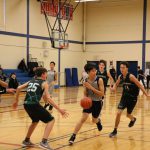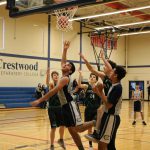 Curling
The U-14 Curling team took to the ice on Monday afternoon at The Donalda Club against Toronto Montessori School.  It was a tight game, with teams exchanging single points through the first few ends.  Down one with last rock in the final end, TMS scored two points to secure a 3-2 win.
Our Open Curling team played an intense roller-coaster of a game against TFS Monday.  After losing 3 points in the second end, we fought back with our own 3 points in the 3rd end, and then traded points for the rest of the game. Both teams fought hard and were in it right until the final skip's stones in the final end. With pressure running high, we had the stone positions we needed and came within one shot of stealing the needed points in the final end, but had to settle for a loss.  Special mention goes to Lyndsay's improving line calling and everyone's good shots and excellent sweeping in the second half which placed our stones where they needed to be. Nice work, team!
The Varsity Boys and Open Curling teams travelled to Donalda Club Thursday for a pair of games against the squads from Bayview Glen.  The Open team fell behind in the first end, but roared back- led by great play on the front end by Yuka Fan and Cindy Wang with a huge 4 point 2nd end. Skip Lyndsay McCulloch and Vice Peter Gelgor both played their best game of the season, and some solid work by Sophia Ren as a second half substitution, helped seal a big win for the Open squad.  The Boys' team fell behind by 6 after their first three ends, but the boys played hard and did not give up. While victory was ultimately out of reach, the boys had a great 2nd half- including a massive 4 point 5th end. Special shout out to Oliver Smith, who was a model of consistency and accuracy at lead.  Both the Boys and Open teams will be in action next Monday and Wednesday as they fight for playoffs spots.
Volleyball
On Monday, the Senior Girls' Volleyball team travelled to Trafalgar Castle for a tri-meet.  In their first game against a strong team from Trafalgar, the girls played their best team game and dominated the opposition winning in two straight sets.  In the second game, we faced off against the top team in the league from TMS.  Although we lost this game, the gap between our team and TMS is now much closer than during our last encounter.  The ladies head off to Rosseau College today to take part in another tri-meet.
The Senior Girls' Volleyball team travelled to Rosseau Lake College Tuesday for a double header. The team started off slow, but managed to win the first game against RLC 2 sets to 1. In a much improved effort, the girls beat TRAF in the second game in straight sets. Special mention goes to Faith for her pinpoint sets, Willa and Rebecca for their incredible serves, Sophia, Audrey and Sydney for their intimidating attacks and Jadaia, Rachel and Marta for their great overall play. Well done ladies!
Swimming
The Varsity Swim Team had their final in-season meet Monday at the Markham Pan Am Centre. Great swims were seen all day, but a few deserve special recognition. Sam Douey broke 30 seconds in his 50 free, clocking in at 29.79. Derek Xu raced his first ever 100 IM, a very difficult event that not many attempt. Sydney Zuckerman dropped another 3 seconds in her 50 breaststroke, while Will Magan was sure to beat his brother's 100 free time, racing it in a minute flat. Finally, there was a great duel in the pool between James Gillingham and Terry Wu during their 100 freestyle, with both boys dropping time from the last meet. Our Championship meet is on February 20th.