Basketball
Wednesday our Senior Girls' Basketball team travelled to TYS to continue their undefeated streak in CISAA play.  Our Lions got off to a slow start,  but once they picked up their pressure there was no looking back.  The Lions were led by the sharp shooting of Rachel Mintz and Megan Pearlman.  The final score was 66-33 Crestwood.
Cross Country
Wednesday the Varsity Cross Country team competed at a meet at Sunnybrook Park.  Congratulations to Ella Rival, Will Dennison, Will Magan, and Jack Magan. Special shoutout to Kyra Grossman for placing third in the junior girls race!
Today, Grade 8 boys Tony Qi and Steven Li had a great race at the Sunnybrook Cross Country meet. Congratulations Tony and Steven!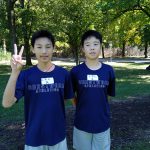 Soccer
The Senior Boys' soccer team traveled to Cherry Beach for their match against Greenwood.  Despite a short bench and a number of injured players, CPC made a game of the match, overcoming two one-goal deficits to tie the game. One of CPC's markers, Jonas Weissland, scored a highlight goal just outside the box, which motivated the team for a while.  The second half however, saw Greenwood extend its leave, as three of our players succumbed to injury. The game ended 5-2.  A special thanks to Junior call ups, Jesse Codron and Alex Korda, for helping the team be a little bit more competitive.
Volleyball
The Senior Boys' Volleyball team played a hard fought match Monday night against TFS.  After losing the first set, the Lions came back with some hard-hitting to win the next two sets.  Unfortunately, the boys lost in the fifth set but showed resiliency and great effort.  Excellent serving and consistency by Luis Pacheco and great setting and hitting by Trevon Thomas and Immanuel Oludele.