On Wednesday, CPC had their 2nd annual Because I Am a Girl Day. It was a day to inspire young women to reach for the stars. We heard from a number of influential females who have broken barriers professionally and excelled in male-dominated professions.
---
Guest speakers included:
Sarah Au
Director of Marketing at Muskoka Brewery, who has also worked with brands like Burt's Bees, ME to WE, Brita, John Frieda. She goes against the grain and is a bit of a corporate rebel and that's what won her the Top 30 under 30 award. Sarah went into Marketing as a career because she always wanted to be a storyteller. Growing up, she was always the underdog and was never expected to win and that's the best thing that's ever happened to her because it made her resilient in today's world.
Marian Hettiaratchi
Dr. Marian Hettiaratchi is a researcher at the University of Toronto in the Department of Chemical Engineering and Applied Chemistry, where she works in the laboratory of Professor Molly Shoichet. Marian completed her undergraduate degree in chemical engineering at the University of Calgary and a Ph.D. in biomedical engineering at Georgia Tech in Atlanta. She is passionate about using engineering to develop new technologies to improve human health. In Atlanta, she worked on making new materials to repair large bone fractures and is now working on making similar injectable materials to repair the brain after stroke injury. She will be starting a job as a professor of bioengineering at the University of Oregon next year.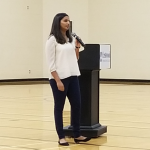 Kelly Lyons
Dr. Kelly Lyons is an Associate Professor and Associate Dean, Academic in the Faculty of Information at the University of Toronto. She worked at IBM from 1985 to 1987 at which time she left to complete her Masters and PhD in Computing and Information Science at Queen's University. She rejoined IBM in 1994. Prior to joining the Faculty of Information as a professor at the University of Toronto in 2008, she was the Program Director of the IBM Toronto Lab Centre for Advanced Studies (CAS). Kelly is very interested in promoting Women in Technology initiatives and has given several presentations to young people and teachers on this topic.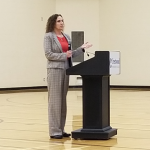 Julia Kroon
Julia is a Crestwood Alumni and a recent graduate from Dalhousie University. While at Dalhousie she studied Computer Science. Julia is passionate about encouraging a young woman to pursue nontraditional fields of study. She spent time visiting local high schools in Halifax promoting STEMM (Science Technology Engineering Math and Medicine).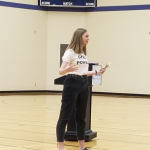 Sarah Barradas
A Leadership professional with over 10 years of experience within the dental consulting space. Proven performance in linking corporate vision with the delivery of desired results through empowerment, development, and utilization of people, process and technology. Sarah is a strong leader, Captain of Team Canada Women's Soccer at 16 years of age, winner of the Golden Boot Award at 1999 PAN AM games, health-conscious fitness fanatic, corporate team player with effective leadership, communication, decision making, problem solving and interpersonal skills, together with a corporate focus and a results-driven attitude. An athlete who commits 14 hrs per week to fitness and an equal amount to continuing education related to business management.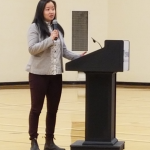 ---
In addition to these amazing speakers 4 CPC students, Raeleigh Gillingham, Rachel Mintz, Caroline Spitzer, and Rylie Tishler gave a presentation summarizing their Me to We experience in India this March Break. They spoke about the tragedy and impact of child marriage and called on everyone to care about girls all over the world not just in Canada.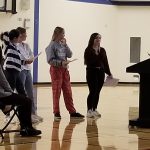 This was an important day at Crestwood because it is necessary that we are fostering an environment for women to support other women: where we can celebrate the successes of our female counterparts, unconstrained by unrealistic gender images from an outdated era. We embrace all aspects of our identity and recognize the importance of celebrating each other in respectful and positive spaces.
While the girls were in the gym listening to these speakers the male students participated in their own exercise titled, "Re-Defining Masculinity." In this workshop, male students have the opportunity to think critically about narrow ideas of what it means to "be a man." Today, male students worked in mixed grade groups to leave behind toxic traits of masculinity and embrace it as the embodiment of compassion, vulnerability and kindness. As we celebrate, "Because I am A Girl Day," it is important to remember that the celebration of girls and women is not had at the expense of men and boys, but best shared with all our classmates as a celebration of equality and the dream we all have of reaching our full potential.
Though this event was only one day, we want the message to remain with our students beyond today. In order to demonstrate why this day is so important for all of us, we placed shocking statistics and graphics on the discrimination that women still face today all over school lockers. We hope that by doing this, we put this day into perspective, and remind ourselves that our experiences are valid, and not to be diminished. We hope that this inspires us all to continue standing up for justice and equality in the workplace, in school, and elsewhere in the world.